KNXperience 2023 : ETS6 Professional special offer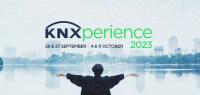 11/09/2023
KNXperience returns for a 3rd time to present the latest innovations from KNX Association and our KNX Members. Our bi-yearly online tradeshow and conference for smart living will now be spread over 4 days in September and October, with each day featuring a unique theme with esteemed speakers, alongside a multitude of digital exhibition booths showcasing the latest in KNX developments and solutions.
Register now to get an exclusive 40% discount on ETS6 Professional license or a chance to win a free ETS license.
KNXperience 2023 Website
All visitors of the event, will receive via email a unique code that can be used on the MyKNX Shop portal.
Validity: the code you will receive can be used in an order until 31.10.2023
Conditions
Offer valid only on a new ETS6 Professional cloud license (€1000)
This offer cannot be combined with other actions or voucher
Reduction not applicable on bundle products
Reduction only valid on the regular price
Codes are exclusively given to KNXperience participants and will not be provided otherwise.