1.1 How can I license my ETS software?
To license your ETS5 you must wait until you receive the dongle by post!
STEP1 : Download and install ETS5. Check and copy the dongle ID in ETS5
To find the dongle ID and to copy it in the clipboard, follow these simple steps:
Connect the dongle to your PC.
Start ETS5 (it will normally be in demo mode)
On the bottom bar of ETS5 click on the option LICENSE to open the licensing window.
The dongle ID will be displayed on screen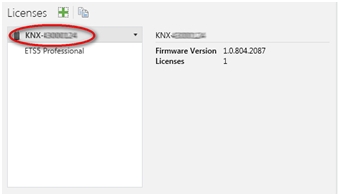 To copy the ID simply click on the "copy to clipboard" button

You can now minimize your ETS5 window and log in to My KNX.
STEP 2: activate your license in My KNX
When you are connected to the shop choose the tab MY ACCOUNT and then the section MY PRODUCTS
You will find there the product you have ordered. In the PRODUCT KEY column you will find a field where to enter the Dongle ID you have found. To do this click inside the empty field and press the two keys CTRL V together to paste the ID.
After entering the Dongle ID click on the ADD KEY button
Immediately afterwards, the field is transformed into a link that you just have to click to download your key file. Save this file anywhere on your hard disk, just remember where you have saved it!
Now, use your Windows Explorer in order to find the directory where you have saved the file (it is in ZIP format). Open that ZIP file and extract the compressed file (the format is *.license)
STEP 3: activate the license in ETS5
Go back to the licensing window of ETS5 and click on the green "+" button

You can now browse the directories on your hard disk. Find the directory where you have saved the .license file you have extracted, select it and click on OPEN to confirm.
Your license should then be displayed in the licensing window like here for instance with ETS5 Professional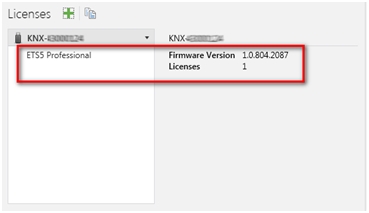 Note:
Do not forget that, after licensing ETS, you always need to plug in the dongle in a USB port of your PC to use ETS ! Moreover ETS must always be started after plugging in the dongle. Without the dongle, your ETS will be in demo mode !